In Memory of Winifred Christine Dunshee 1921-2017 | Obituary | St. Joseph Mo
Our thoughts and prayers go out to the Dunshee family at this time. We thank them for thinking of our children and supporting our mission during their time of loss by suggesting donations to the Noyes Home for Children.
If you would like to send donations in memory of Winifred Dunshee they can be mailed to:
The Noyes Home for Children
801 North Noyes Blvd
St. Joseph Mo. 64506
Or made online In Memory of Winifred Christine Dunshee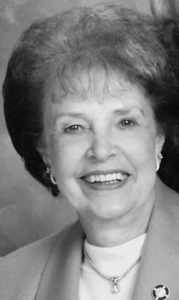 MARYVILLE, Mo. Winifred Christine Dunshee, 95, of Maryville, passed away peacefully at home on Sunday, October 15, 2017, with her family at her side.
Winifred was born in Marshall, Missouri, on December 7, 1921. Her parents were Frank and Clara Mary (Sellmeyer) Crass, and preceded her in death.
She was also preceded in death by: her husband, Dr. Robert E. Dunshee MD, in 2016;and her sister, Helen Ann Brooks, in 2008.
Winifred had worked as a model for Monsanto Co., and was once featured on the St. Louis Cardinal score card. She was well known for her baking ability, especially cookies, and being an amazing hostess.
On September 7, 1946, Winifred was united in marriage to Dr. Robert E. Dunshee MD, and they were married for almost 70 years before his death. She was a homemaker and had helped at her husbands medical office.
Left to mourn her passing is her daughter, Debbie Dunshee-Garrison, St. Joseph; her granddaughter, Beth Garrison, and her husband, Jamieray Hutchins, St. Joseph; and her nephew, John Brooks.
Mrs. Dunshee has been cremated and her memorial services will be at 2 p.m. on Thursday, October 19, 2017, at the Bram-Danfelt Funeral Home, Maryville.
The inurnment will be private at the Oak Hill Cemetery, Maryville.
The family will receive friends for one hour prior to services at the funeral home.
Memorials are suggested to the New Nodaway Humane Society, Maryville, or the Noyes Home, St. Joseph. As published in the St. Joseph News-Press.