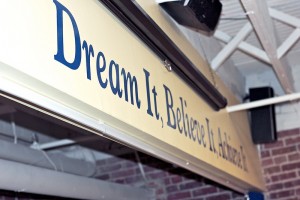 The Noyes Home is a place founded by love and generosity more than 100 years ago; that spirit of love and caring is stronger than ever today. However, our needs are also greater as more families are facing crisis, like job loss, eviction or food insecurity. Last year, more than 120 children were served by the Noyes Home across all age groups.
For the past century, the Noyes Home has cared for children with private resources, but as our needs continue grow, we are inviting the community to help "Open Our Doors Wider" with our first ever Capital Campaign. Every gift received — such as monetary donations, time, estate or planned gifts — helps a child find a safe, nurturing "home" while their family works through a tough time. Now that we have opened the Nursery, your gifts may also help save lives and prevent child abuse in our region.
Did You Know There are Several Ways to Help the Children at the Noyes Home?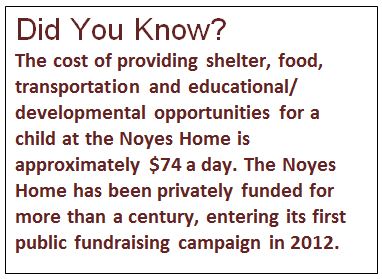 Donations, memorial gifts or "in honor of" gifts
Brick Campaign, including Child Art Brick (gifts of $250 to $500)
Matching gifts through your employer or organization
Estate gifts
Planned gifts
Scholarship fund contributions
In-kind donations, such as furniture or other items
Volunteer service, including mentors, tutors and host families
Gift cards: Prepaid cards for Wal-Mart, Target, Walgreens, Kohl's, or recreational places, like movie theaters are greatly appreciated. We are registered at Wal-Mart, Target and Amazon.com under Noyes Home for our Nursery!
For information about any of these opportunities, please call 816.232.5650.
What Can You Share? Items on our current Wish List include:
Nursery Care Packages – The Noyes Home Nursery opened in the fall of 2012 and has an ongoing need for Nursery Care Packages.
Socks, underwear (call for specific sizes, genders)
Gift cards to Wal-Mart, Target, K-Mart, Kohl's, Walgreens
Clothing (new or gently used)
Towels/bedding
Sports equipment
Boy Scout uniforms, Girl Scout uniforms
School supplies
Diapers and toys for the Crisis Nursery (Can you provide a Nursery Care Package?)
Age appropriate DVD movies (Rated G or PG)
Colorful fleece blankets for long twin beds
Puzzles, all levels
Jewelry making kits or craft kits
Personal care products of all types
Hair care products for African American hair
We very much appreciate in-kind gifts of materials or supplies to help us serve the children and families of the Noyes Home. To make an in-kind donation, please first look at our Wish List so that we can be sure to have a good use for your items. You may be eligible for a tax deduction, and if so, a receipt will be granted to you by the Noyes Home.
Scholarships Open the Door to a Bright Future for Noyes Home Graduates:
Each year, LUBA (Ladies Union Benevolent Association) is proud to offer college scholarships to Noyes Home students who are attending colleges, universities or technical schools after high school graduation. Applications are available at the Noyes Home to students living there.
Past scholarship recipients have graduated from:
Missouri Western State University
Hillyard Technical School
Northwest Missouri State University
Highland Community College
If you, your employer or your organization would like to help a Noyes Home student achieve their dreams and goals through higher education or technical school, we welcome and encourage you to send a gift today, addressing "scholarship" in the memo or notes.