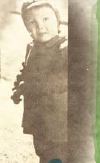 Many adults who grew up in the embrace of the Noyes Home walls recall some wonderful memories that were created here. Not only is a sense of comradery and a "sibling" atmosphere created at the Noyes Home, but volunteer mentors, host families, and many other community partners have all brought smiles and educational opportunities to the children.
Many children at the Noyes Home await the day they can return home with their parents, but while they wait, they have a loving and caring family around them at the Noyes Home. Alice Fern Francis, for example,who lived at the Noyes Home between 1925 and 1928, recalled anxiously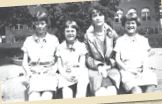 waiting at the window each week for her mother to visit. While she wanted to be home again with her mother, she was so grateful to the Noyes Home for helping her mother and herself to grow to become stronger individuals and a stronger family.

Josh's Story…
At this year's Take A Seat with The Wizard of Oz event, many of us had the opportunity to meet a young man who shared that he had lived at the Noyes Home when he was 7 years old. Josh Johnson and his younger brother lived at the Noyes Home for approximately one month while their mother sorted out some personal matters and dealt with major depression.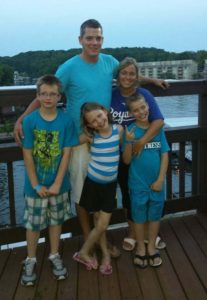 Josh shared that, "Having the Noyes Home as an option gave our family the chance for my mom to adjust and deal with the things in her life so she could properly care for us again." He also said, "Our family may not have had the opportunity to fully recover and rebuild" without the safe haven of the Noyes Home.
As a child, Josh went through many hardships and was not certain what the future held for him. As an adult, however, he was able to turn things around and made a great deal of progress in his life. "I am blessed to have a great career and life which I have built with my wife and three children." Josh said, "I feel that the Noyes Home helped shape me in many ways as I now work in the social service field." Today, Josh not only serves those in need in the community but continues to support the mission and the children of the Noyes Home.
Josh's story reminds us that the Noyes Home does indeed "foster a brighter future" for our children. Like Josh, our donors and volunteers not only make an immediate difference today, but their impact continues as our residents move forward outside of the Noyes Home.
As Josh shared, "I have been very blessed in my life and am proud to be able to support such an excellent organization and their mission."
"I Can't Express How Much it Meant for Me" Ralph Hicks …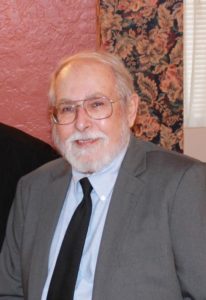 In 1933 Ralph Hicks was placed at birth in the Home for Little Wanderers (now Noyes Home). As he says, he had "no home, no parents, no food, no clothing." At that time, he was a ward of the St. Joseph and Buchanan County Humane Society!
A few months later, Ralph was placed with his new parents. He is now 83, living in Wisconsin with his lovely wife Bonnie. For over 20 years they have portrayed Mr. and Mrs. Santa Claus in order to give back to children in gratitude for Noyes Home. According to Ralph, "My wonderful life is because I was taken in and given a great start. Without Noyes Home, where would I be? Who would I have become? It changed my life."
Meet Howard, another example …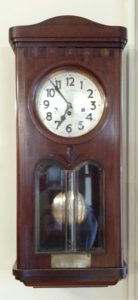 In 1900 a two-year-old toddler named Howard Engleman was brought to the Home for Little Wanderers (Noyes Home) by his mother. She never returned. He remained at Noyes Home as part of our family until the age of 13 when he left for high adventure and became a sailor on an ocean-going ship. Two years later while in South America, he contracted tuberculosis. Realizing that he was going to die, he visited the United States Consul and asked that all of his belongings be sold and that the money be sent to the Home for Little Wanderers, the only home he had ever known, so that he might be remembered. The money was used to buy a chime clock which hangs in our entrance hall today and bears the inscription "In loving memory of Howard Engleman who died in Santos, Brazil, July 17, 1913 age 15 years. I die trusting in the Lord."
Noyes Home has been taking care of "good kids with bad breaks" since 1894. Countless children like Howard have walked through our doors and have found not just a warm bed and food but a safe place to call home. With the support of our dedicated staff and our network of community friends, we have been able to give the children the guidance and encouragement they need to cope with their life challenges.
Every story at the Noyes Home is different, but they all have one thing in common: for a season, the Noyes Home is home to children from diverse life journeys.

Watch Howard's Story…