Lee Anna Kerber 1930-2018
In Memory of Lee Anna Kerber 1930-2018 | Obituary | St. Joseph Mo
Our thoughts and prayers go out to the Lee Anna Kerber family at this time. We thank them for thinking of our children and supporting our mission during their time of loss by suggesting donations to the Noyes Home for Children.
If you would like to send donations in memory of Lee Anna Kerber they can be mail to:
The Noyes Home for Children
801 North Noyes Blvd
St. Joseph Mo. 64506
Or made online In Memory of  Lee Ann Kerber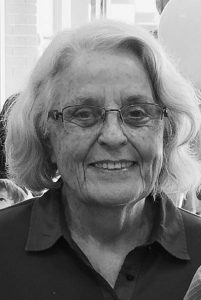 Lee Anna TeeDee Kerber, 87, St. Joseph, passed away Tuesday, January 16, 2018, at Mosaic Life Care.
She was born August 2, 1930, to Clifford and Leo (Sill) Kerns, in Hemple, Missouri.
Lee married Eugene A. Kerber on December 17, 1950, at Wyatt Park Baptist Church.
Lee enjoyed walking, playing cards and loved people. She never met a stranger and was passionate about helping others.
Her career spanned many years, beginning in South Dakota and later as the personnel director of Joskes Department Store in Houston, Texas, and eventually retiring from Dillards in Tulsa, Oklahoma.
Lee was preceded in death by her parents; sister, Mary Lou Grier; brother-in-law, George Grier; niece, Connie Awbrey; and nephew, Johnny Grier.
Survivors include: her husband of 67 years, E.A.; sons, Robert Eugene Kerber, Richard Lee Kerber, Paul Hinkle (Alicia); grandson, Rowdy Ray Kerber; several nieces, nephews and extended family.
Inurnment: Ashland Cemetery, at a later date.
The family will gather with friends 2 to 4 p.m. Sunday, Meierhoffer Funeral Home & Crematory.
Flowers are appreciated, and for those wishing to make a contribution, the family requests they be made to Noyes Home for Children.
Online guest book and obituary at www.meierhoffer.com. As published in the St. Joseph News-Press.