In Memory of June Rose Craig (Tibbetts) 1922-2017 | Obituary | St. Joseph Mo
Our thoughts and prayers go out to the Craig family at this time. We thank them for thinking of our children and supporting our mission during their time of loss by suggesting donations to the Noyes Home for Children.
If you would like to send donations in memory of June Rose Craig they can be mail to:
The Noyes Home for Children
801 North Noyes Blvd
St. Joseph Mo. 64506
Or made online In Memory of June Rose Craig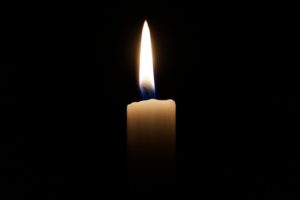 June Rose (Tibbetts) Craig, 95, passed away peacefully in her sleep on Thursday, September 7, 2017, at the Laurelwood Assisted Living care center, in Pensacola, Florida, after a lengthy battle with Alzheimer's disease.
June Rose Tibbetts was born in Maryville, Missouri on June 12, 1922. She moved to St. Joseph in the mid-1930s and graduated from Lafayette High School. After graduating high school, she attended secretarial school in St. Joseph and then went on to work at a law firm in Kansas City, Missouri.
She met her husband, Lynn Craig, while attending school in Kansas City, and they were married in 1952. Once they were married, they returned to St. Joseph to start a family. Together they raised four children and were married for 54 years, all of that time living on Belmont Road in Country Club Village.
Mrs. Craig was a long time member of the Christ Episcopal Church, as well as The First United Methodist Church. After raising her four children, she worked for more than 20 years at The St. Joseph State Hospital, where she served as a Patient Activities Coordinator, where colleagues referred to her as the best boss they had ever had.
One of her favorite community organizations in St. Joseph was the YWCA and served as an active member throughout the 1940's.
She was an accomplished bridge player and also took a special interest in nurturing the beautiful garden in her backyard.
June Rose loved to play hymns, gospel songs and choruses on both the organ and piano by ear, and the family would sing-along, generations connected by music. She loved her grandchildren very much, and treasured their time together attending church, gardening or doing nothing at all – simple moments spent together became priceless memories.
June Rose is survived by: her three daughters, Rebecca C. Schmidt (David), Pensacola, Cathy "Toppy" G. Bainter (Austin), St. Joseph, Susan R. Craig, St. Joseph, and son, Steven L. Craig, Newport Coast, California; five grandchildren, Jason E. Lafollette (Traci), League City, Texas, Gresham R. Dale, Pensacola, Rachel L. Chaney, Newport Beach, Aidan R. Simmons, St. Joseph and Thomas C. Schmidt, Savannah, Georgia; great-granddaughter, Brittni T. Lafollette, League City; sister, Betty L. Kirschner, St. Joseph and several nieces and nephews.
She is preceded in death by: her husband, Lynn Craig; her parents, Clarence E. and Aurie M. (Ham) Tibbetts; and two brothers, Melvin E. and Gene E. Tibbetts.
A special thank you to Covenant and Emerald Coast Hospice, the staff at Laurelwood Assisted Living, and her devoted companion Kathleen Belin – together they shared many afternoons together looking at the water and watching The Blue Angels fly high in the sky.
A small gathering to celebrate the life of June Rose will be held in both Pensacola and St. Joseph, at a later date.
In lieu of flowers, donations will be gratefully accepted by The Noyes Home for Children, St. Joseph; the YWCA St. Joseph; or to The Alzheimer's Association.
Suddenly all my ancestors are behind me.
"Be still" they say.
"Watch and listen.
You are a result of
the love of thousands."
-Linda Hogan,
Native American Writer