Barbara J. Wolfing 1931-2018
In Memory of Barbara J. Wolfing 1931-2018 | Obituary | St. Joseph Mo
Our thoughts and prayers go out to the Barbara J. Wolfing  family at this time. We thank them for thinking of our children and supporting our mission during their time of loss by suggesting donations to the Noyes Home for Children.
If you would like to send donations in memory of Barbara J. Wolfing they can be mail to:
The Noyes Home for Children
801 North Noyes Blvd
St. Joseph Mo. 64506
Or made online In Memory of  Barbara J. Wolfing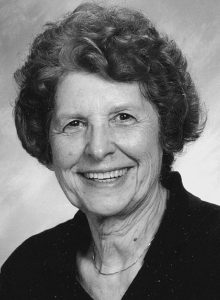 Barbara Joan Wolfing, 86, St. Joseph, passed away Thursday, March 1, 2018, in St. Joseph.
She was born June 1, 1931, to Tom and Eurith (Palmer) Wolfing in St. Joseph.
Barbara attended Floyd Grade School and graduated from Benton High School in 1948.
She entered the work force as a switchboard operator for Southwestern Bell and worked in St. Joseph and Kansas City.
In 1985, she left her promoted position as a sales lady at Southwestern Bell and began working at Sears selling carpet. Barbara also worked at Gray Automotive, Robs Flowers, Bridal Boutique, and Humpty Dumpty babysitting service until her retirement at 74.
Early in her life, she lived for short periods of time in Arkansas and California, but St. Joseph was her home.
She enjoyed doing craft shows and loved the Royals. Her many friends described Barbara as friendly, talkative, energetic, vibrant and positive. She was an encourager who loved children and doted on her nieces and nephew.
Barbara was a member of Wesley United Methodist Church for most of her life. She enjoyed singing in the church choir.
Barbara was preceded in death by: her parents; and brother, Roger Wolfing.
Survivors include: her aunt, Jean (Wolfing) Riley; sister, Carol (Wolfing) Rice (Bobby Jo); nephew, Bradley Wolfing (Tetiana); nieces, Audrey Wolfing, Rebecca (Rice) Young (Scott), and Amy Rice; and cousins.
Farewell Grave Services and Interment: 10 a.m. Tuesday, Memorial Park Cemetery.
The family will receive friends one hour prior to the service, Meierhoffer Funeral Home & Crematory.
Flowers are appreciated and for those wishing to make a contribution, the family requests they be made to the Noyes Home for Children.