Robert L. Houp 1932-2018
In Memory of Robert L. Houp 1932-2018 | Obituary | St. Joseph Mo
Our thoughts and prayers go out to the Robert L. Houp family at this time. We thank them for thinking of our children and supporting our mission during their time of loss by suggesting donations to the Noyes Home for Children.
If you would like to send donations in memory of Robert L. Houp they can be mail to:
The Noyes Home for Children
801 North Noyes Blvd
St. Joseph Mo. 64506
Or made online In Memory of Robert L. Houp
Robert Bob, The Overhead Door Man Houp, 85, St. Joseph, passed away Friday, March 9, 2018, at his home.
He was born April 14, 1932, to John and Beulah Houp. Robert was a lifelong resident of St. Joseph.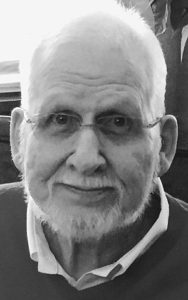 On November 17, 1950, he married Dixie L. Krause at First United Methodist Church. They later joined Deer Park Methodist Church, where they served together as Sunday School teachers and directors of Foreign Missions. To their marriage two sons were born, Robert L. Houp Jr. and Timothy D. Houp. They enjoyed 39 happy years together.
A veteran of the Korean War stationed in Okinawa Japan, he served in the United States Air Force.
Bob began his career when J.R. Weaver asked him to come to work for the Overhead Door Company. It was a great joy over the years as he considered his relationship with Mr. Weaver to be very rewarding. In 1987, he opened The Overhead Door Company of St. Joseph. He continued as President until recent illness kept him away.
In 1990, he married Pamela J. Stevens-Redfield. They have enjoyed 28 years of marriage. Working side by side they have made The Overhead Door Company the successful enterprise that it is today. Together they have also enjoyed being owners of PBE Toys.
Bob loved his family, children and grandchildren, and always put them first in his life. Through his generosity, many opportunities have been provided for them.
He was strong, talented with many skills, kind, and generous of heart; a man of integrity and good will.
He was preceded in death by: his parents; his first wife, Dixie Houp; sisters, Geraldine Fender, Barbara Deal; brother, Donald Houp; and his special companion, Missy (the best shelter dog ever).
Survivors include: his wife; sons, Robert Rob Houp (Brenda), St. Joseph, Tim Houp, Springfield, Missouri, Bosco Redfield, Wichita, Kansas; daughter, Lisa Redfield-Proctor (Tim), St. Joseph; grandchildren, Jarrod Houp (Ellen), Midlothian, Virginia, Kaitlin Houp, Dar es Salaam, Tanzania, Austin R. Houp (Amanda), Ash Grove, Missouri, Lauren Redfield (Shuggie), Andrew Proctor, Nick and Emily Redfield; great- grandchildren, Eli and Ezra Houp, most recently, Stella Houp; nieces, nephews; and his executive office manager, Dovie Smith.
The family wishes to express sincere thanks to his caregivers, Cassie and Jennifer from Freudenthal Home Health Care, for providing wonderful care, allowing him the ability to stay in his home.
The children wish to express their thank you to his devoted and loving wife, Pam. She has unselfishly provided the best care possible during our fathers recent illness.
Graveside Farewell Services and interment: 2 p.m. Saturday, Memorial Park Cemetery. The family will gather with friends one hour prior, Meierhoffer Funeral Home & Crematory.
The family suggests memorial gifts to Kaitlin in Tanzania, c/o African Inland Mission PO Box 3611, Peachtree City, GA 30269-7611; The Noyes Home of St. Joseph; The St. Joseph Animal Shelter; or Mosaic Life Care Hospice.
Online guest book and obituary at www.meierhoffer.com. As published in the St. Joseph News-Press.