Our thoughts and prayers go out to the Mullinax family at this time. We do thank them for thinking of our children and supporting our mission during their time of loss by suggesting donations to the Noyes Home for Children.
If you would like to send donations in memory of Mary Ellis Mullinax they can be mail to:
The Noyes Home for Children
801 North Noyes Blvd
St. Joseph Mo. 64506
Or made online In Memory of Mary Ellis Mullinax
Mary Ellis Mullinax
1940-2016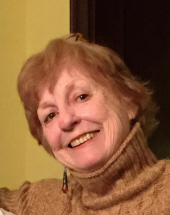 If Fourth of July fireworks seemed a bit less brilliant than they had in years past, it probably was because of the light that went out on Sunday, July 3rd, when Mary Ellis Mullinax, wife to John, died after a long battle with cancer.
Despite growing up in a home of modest means, Mary possessed a sense of style and grandeur, and she passed on her uncompromising critical eye to her children, Missy, Amy and Chris. The trio also inherited her "News Press ears" (the ability to listen to a conversation two tables over), her love of cooking (except for Amy who apparently got her culinary skills from her father) and, of course, her unending patience in dealing with John (though a glass of wine would certainly help).
Mary, a Certified Master Gardener, was always able to coax beauty from the most humble of resources, whether it was her backyard, the flower beds at Our Lady of Guadalupe where she was a devoted parishioner and prayer chain organizer, or a pile of yarn that she would transform into a hand knitted work of art for a friend or family member. Her appreciation of beautiful items extended to a love of antiques, a love shared by the fellow members of her Questers group.
Mary was always health conscious and loved to participate in the latest exercise fads, which was able to offset her other love, ice cream. But nothing brought Mary as much joy as her grandchildren, Maggie, Libby, Lily and Ben, who kept her young at heart until the end.
Mary was an inspiration to her family and friends, bravely facing each new challenge with determination and grace. The family would like to extend special thanks to the Lunch Bunch, the Knitting Crew and longtime friends for making her final days filled with love and laughter.
Mary is survived by husband, John; daughters, Missy Archer and husband Rob, and Amy Drouin and husband Jeremy; and son, Chris Mullinax and wife Cat Blankenship.