Our thoughts and prayers go out to the Hegarty family at this time. We thank them for thinking of our children and supporting our mission during their time of loss by suggesting donations to the Noyes Home for Children.
If you would like to send donations in memory of Hodge Wallace Hegarty they can be mail to: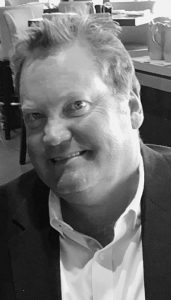 The Noyes Home for Children
801 North Noyes Blvd
St. Joseph Mo. 64506
Or made online In Memory of Hodge Hegarty
Hodge Wallace Hegarty
1964-2017
KANSAS CITY, Mo.—Hodge Wallace Hegarty, 53, passed away at his home on March 20, 2017.
He was born in St. Joseph, March 3, 1964, to Roger Allen and Jessamine Wallace Hegarty, who preceded him in death. He graduated from Central High School in 1982, and worked for Pavon Corp. in North Kansas City.
Hodge's family nurtured his gentle spirit and kind heart, encouraging him to dream big, think independently and live his life to its fullest potential. He was a talented artist who painted for a recreational hobby. Many of his creations were sold in stores in Hawaii and St. Joseph.
Hodge grew into a kind, gentle man who loved to travel and meet people, learn their life stories and share them when he returned home. He cultivated a large circle of friends and acquaintances stretching from Canada to Mexico and Hawaii with his easy smile and fun loving personality.
He is survived by his sister, Blair Hegarty (Art Fillmore), of Overland Park, Kansas; brother, R. Cort (Tracee) of St. Joseph; nephews, Nick, Chase and Hunter; nieces, Sarah, Morgan, Lane, Lily and Halle; his aunt and uncle, Alison and Walter Randall, of Kansas City and his cousins.
Private services, Meierhoffer Funeral Home & Crematory. Interment, Memorial Park Cemetery. The family suggests memorials to The Noyes Home, 801 N. Noyes, St. Joseph, MO 64506, or charity of the donor's choice.