Our thoughts and prayers go out to the August W. Bachman family at this time. We thank them for thinking of our children and supporting our mission during their time of loss by suggesting donations to the Noyes Home for Children.
If you would like to send donations in memory of August W. Bachman they can be mailed to:
The Noyes Home for Children
801 North Noyes Blvd
St. Joseph Mo. 64506
Or made online In Memory of August W. Bachman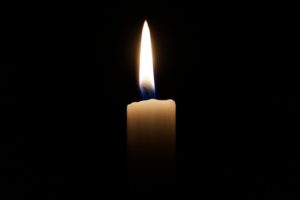 August "Auggie" W. Bachman, 90, of St. Joseph, passed away Aug. 29, 2019, at his home.
Auggie was born April 24, 1929, in St. Joseph, to August and Opal (Davis) Bachman.
Auggie served in the army, in Korea, during the Korean War.
He married Lela (Wilson) Bachman on Oct. 29, 1954, in St. Joseph.
After working for various painting contractors, he worked at Goetz Brewing Company until it closed, retiring from St. Joseph State Hospital.
He was a member of the Pearl Pin Club, St. Patrick's Catholic Church and the VFW Post 359.
He enjoyed antique car restoration, antiques, hunting and furniture refinishing.
Survivors include: his wife of 65 years, Lela; daughters, Karen (George) Wilbur, Granby, Connecticut, and Terri (Rick) Rader, St. Joseph; son-in-law, Chris Wildhagen, St. Joseph; grandchildren, Sheri (David) Wildhagen-Grieg, Jen Wildhagen, David (Maari) Wilbur and Lindsay McCush; great-grandchildren, Olivia Wildhagen-Piercy, Keegan and Sean McCush, and August and Arne Wildhagen-Grieg; sisters, Theresa (Melvin) Anderson and Mary Ashby; numerous nieces, nephews, extended family members; and many, many friends.
He was preceded in death by: his parents; daughter, Linda Wildhagen; brothers, Donald, Francis, Leonard (Blackie), Gene and Charlie Bachman; sisters, Kate Cathcart, Norma McKay and Martha Branson.
Memorial contributions may be made to: the Autism Alliance of NW Missouri, the Noyes Home, or charity of your choice.