In memory of Gwendolyn Smith Bartlett | 1925-2016 | Obituary
Our thoughts and prayers go out to the Bartlett family at this time. We do thank them for thinking of our children and supporting our mission during their time of loss by suggesting donations to the Noyes Home for Children.
If you would like to send donations in memory of Gwendolyn Smith Bartlett they can be mail to:
The Noyes Home for Children
801 North Noyes Blvd
St. Joseph Mo. 64506
Or made online In Memory of Gwendolyn Smith Bartlett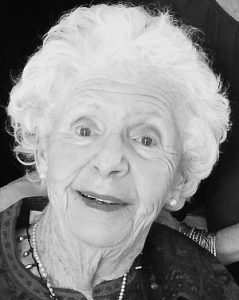 Long time St. Joseph resident, Gwendolyn Smith Bartlett, passed away on July 18, after a long and wonderful life.
Gwen was born in Kansas City, Missouri, to Wendell E. Smith and Irene Shepardson Smith, on December 5, 1925.
On April 23, 1949, she married Walter C. Bartlett at the First Presbyterian Church of St. Joseph, where she and her husband lived throughout their married life. Her husband predeceased Gwen in 1985.
Her two daughters, Wendy B. Serrell, of Austin, Texas, and Brenda B. Graves, of St. Joseph, and their husbands, Howard and Reed, survive her. She is also survived by three grandchildren, Kathryn Bartlett Graves, of St. Joseph, Bradley Clay Graves and his wife, Alison, of St.Louis, Missouri, and Bretton Bartlett Serrell, of Austin; as well as two great-grandchildren, Lynnin Reed Graves, of St. Joseph, and William Henry Graves, of St. Louis. She is also survived by her life-long friend, Bickley Bayer, of St. Joseph.
During her very active life in St. Joseph, Gwen was a member of the First Presbyterian Church, the Junior League of St. Joseph, the Benton Club and the St. Joseph Country Club. Gwen was a graduate of Central High School, Stephens College and the University of Missouri, where she was a proud 50-year member of the Theta chapter of Kappa Kappa Gamma. She was also a long time member of the Royal Palm Yacht and Country Club of Boca Raton, Florida, where she wintered for many years.
Gwen was a kindred spirit to a wide variety of friends, both in St. Joseph and in Boca Raton. Her loyalty to her friends, her well timed sense of humor and her generosity endeared her to many. Gwen was an avid golfer who took advantage of the game to travel far and wide. Her shrewdness as a card player was well known, especially to her grandchildren, who she schooled on the nuances of cribbage, gin, hearts and poker. She played bridge since her college days and Mah Jongg in recent years, and kept those friends very close to her.
Her family will never forget Gwens warm greeting whenever they arrived at her home for a visit. Hineepines was a sure sign that Gwen was delighted to see them and though the greeting was a source of mystery to non-family members, they were soon reassured that it was just dog talk.
Though physical disability slowed her down in recent years, Gwens determination, resiliency and quick wit will leave a lasting legacy for her family and friends. Those qualities that carried her through life supported her at the end.
A Farewell Service will be held in her honor at 1 p.m. on Thursday, July 21, 2016, at the Meierhoffer Funeral Home and Crematory.
In lieu of flowers, a donation in Gwens name to The Noyes Home for Children or the Albrecht-Kemper Museum of Art, both in St. Joseph, will be greatly appreciated.