In Memory of Freda Buehler Dunavant | 1919 – 2016 | Obituary
Our thoughts and prayers go out to the Dunavant family at this time. We do thank them for thinking of our children and supporting our mission during their time of loss by suggesting donations to the Noyes Home for Children.
If you would like to send donations in memory of Freda Buehler Dunavant they can be mail to:
The Noyes Home for Children
801 North Noyes Blvd
St. Joseph Mo. 64506
Or made online In Memory of Freda Buehler Dunavant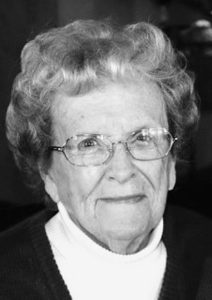 Freda Buehler Dunavant passed away Sunday, June 17, 2016, and was born August 28, 1919, to Charles G . Buehler and Mary Gerber Buehler. She was extremely proud of her Swiss heritage.
Freda was preceded in death by: her parents; five sisters, Lucile Harton, Mable Forsen, Mary Euler, Olivia Decker, Helen Bergman; brother, Harold Buehler; her husband, Louie Dunavant; daughter, Patricia D. Potter; granddaughter, Jennifer Nelson; step-grandson, Ashley Benson; great-grandson, Croy West; as well as her brother and sister-in law, Tony and Vivian Toft.
Freda graduated from St. Joseph Central High School in 1937. Her husband, Louie Dunavant, also attended Central High School. She was the first generation to graduate from Central, her daughters and sons were the second generation, her grandsons and granddaughters were third generation, and her great- granddaughters were fourth generation.
Freda married Louis T. Dunavant, December 30, 1936, and they celebrated 71 years together. Freda has many nieces and nephews; some were as close to her as her children. Her childhood name was Biddy, as she was they youngest of 10 childrenBeauty plus sweetness defines Biddy, but of course all of the grandchildren only knew her as Granny.
She started selling real estate in 1963, retiring in 2009.
Household sales started around 1968, when the owner of a home she sold did not know what to do with all of their household items. She of course had a solution, she would hold a sale, hence began a second career in Estate Sales. She so enjoyed all of the real-estate agents she met over the years with the trips and parties, like the annual Pumpkin Parties and the Christmas party. The Apple Blossom parade was always attended with a special booth reserved at the Hi Ho. She became very close to so many of the girls, as she referred to them. Her days at the Chateau apartments were always eventful; from sharing so many of her food items with neighbors to courtyard parties. She loved having her great-grandchildren over to visit. She would always give them chocolate and often had out her holiday decorations like a Halloween candy bowl with an automatic witchs hand, at which she would laugh hysterically.
She would make enchiladas by the dozens to give to folks and everyone loved her strawberry pie! Freda liked to entertain, enjoyed cooking if you did not clean your plate she would always ask if you did not like it, scary for those who were newbies. The door was always open, there was music constantly playing; she would generously make room for anyone without family to join in a holiday meal. She enjoyed card games like pitch and bridge.
Freda is survived by: her children, Tommy and (Diane) Dunavant, St Joseph, Don and (Janette) Dunavant, Issaquah, Washington, and Kristy and (Ron) Benson, Kansas City, Missouri.
She is also survived by: her grandchildren, Jeff and (Beverly) Potter, McDonough, Georgia, Steve and (Robin) Potter, Swan Point, Maryland, Debi and (Chuck) West, Suwanee, Georgia, Leslie and (Jason) Brennen, Savannah, Missouri, Josh and (Jill) Nelson, St. Joseph, Mary and (Kyle) Archer, Lenexa, Kansas, Aaron and (Carmen) Benson, Prairie Village, Kansas, Austin and (Kari) Benson, St. Joseph, Chad and (Becky) Dunavant, Denver, Colorado, and Amber and (Matt) Owen, Carnation, Washington.
She is also survived by: many great-grandchildren, Kayla (Potter) Haffly, Kasey Potter, Joshua, Wyatt Potter, Kody Nelson, Josette Nelson, Tori Grayson, Scarlett Archer, Carson West, Nate, Ben, Peter Dunavant, Olivia Owen, Ashlie Benson, Cecilia Benson, Cohner Benson, Lakota Benson and Evelyn Benson. Freda is also survived by her great-great-grandsons, Eli Haffly and Oliver Lohse.
She has lost many friends and family members. But as she has said over the past years, everyone is gone now she can start the party all over again. Everyone is waiting.