Our thoughts and prayers go out to the De A. Swinney family at this time. We thank them for thinking of our children and supporting our mission during their time of loss by suggesting donations to the Noyes Home for Children.
If you would like to send donations in memory of De A. Swinney they can be mailed to:
The Noyes Home for Children
801 North Noyes Blvd
St. Joseph Mo. 64506
Or made online In Memory of De A. Swinney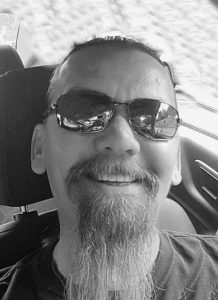 De A. Swinney, 51, of St. Joseph, passed away Friday, May 31, 2019, in a Saint Joseph, hospital.
He was born April 14, 1968, in St. Joseph, son of Kathy and the late Glen Swinney. He graduated from Benton High School Class of 1986, and served in the United States Army. He worked at Ford Motor Company for over 17 years and then Johnson Controls for over 10 years. De enjoyed riding motorcycles, visiting Wineries, traveling and woodworking. He participated in the Rides for Ryan, and Bikers for Babies, and was a member of the Missouri chapter of ABATE motorcycle club.
De was preceded in death by: father, Glen Dean Swinney.
Survivors include: mother, Kathy Swinney, St. Joseph; brothers, Robin Shuman, and Charles Swinney; sisters, Stacy Swinney (Steven Sharp) Swinney, Oregon, Missouri, and Candy (Brad) Harding, St. Joseph; six children; and eight grandchildren.
Funeral services: 2 p.m. Thursday, June 6, 2019, at Rupp Funeral Home, Rev. Leanna VanZandt-Nauman officiating.
The family will receive friends from 5 to 8 p.m. on Wednesday, at the Rupp Funeral Home.
The Interment will be at the Memorial Park Cemetery.
Memorials are requested to the Noyes home, or St. Jude's Children's Hospital.