Our thoughts and prayers go out to the Schreiber family at this time. We do thank them for thinking of our children and supporting our mission during their time of loss by suggesting donations to the Noyes Home for Children In lieu of flowers.
If you would like to send donations in memory of William M. Schreiber they can be mail to:
The Noyes Home for Children
801 North Noyes Blvd
St. Joseph Mo. 64506
Or made online In Memory of William M. Schreiber
Obituary for William M. Schreiber
William M. Schreiber
1919-2017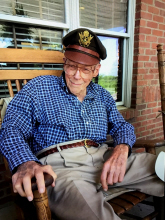 William M. Schreiber, 97, St. Joseph, Missouri left this earth on February 27, 2017.
He was born November 24, 1919 in St. Joseph, Missouri to Hazel and Allen B. Schreiber.
William graduated from Central High School and the University Of Missouri, where he was a member of Beta Theta Pi. He and his brother Allen owned and operated Schreiber Mills Inc. which was founded by their father in 1907.
He served in the U.S. Army in World War II achieving the rank of lieutenant.
William married Margaret Lee Beaty November 7, 1942 she preceded him in death April 10, 2011.
He loved golf and achieved five holes in one. He also enjoyed vacationing with his wife Margaret in Arizona and Colorado. He will be sadly missed. Truly a great husband, father, grandfather, great-grandfather, businessman and role model.
Special thanks to Heidi at Mosaic Hospice and his magnificent caregivers Debbie McClellan and Peggy Spoonemoore.
He was also preceded in death by his parents; and daughter, Karen Baker.
Survivors include son, William M. Schreiber, Jr., Overland Park, KS; granddaughter, Britt Schreiber, Leawood, Kansas; grandsons, Ryan Baker, San Francisco, California, and Nick Baker, Denver, Colorado; nieces, Megan Wyeth, Nancy Schreiber, Susan McDowell; three great-grandchildren, Bennett, Mila, and Jaxson.
Farewell Services 3:00 P.M. Friday, Meierhoffer Funeral Home & Crematory. Interment Memorial Park Cemetery. The family will gather with friends 1:30 to 2:30 P.M. Friday, Meierhoffer Funeral Home & Crematory. In lieu of flowers the family requests donations to the Noyes Home and Leukemia and Lymphoma Society.