Patricia Carol Adams 1937-2017
In Memory of Patricia Carol Adams 1937-2017 | Obituary | St. Joseph Mo
Our thoughts and prayers go out to the Adams family at this time. We thank them for thinking of our children and supporting our mission during their time of loss by suggesting donations to the Noyes Home for Children.
If you would like to send donations in memory of Patricia Carol Adams they can be mail to:
The Noyes Home for Children
801 North Noyes Blvd
St. Joseph Mo. 64506
Or made online In Memory of  Patricia Carol Adams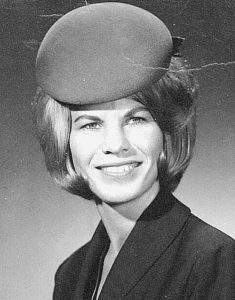 Patricia Carol Adams, 80, of St. Joseph, passed away at Abbey Woods Center for Rehabilitation and Healing, on November 17, 2017. Pat was born in Goff, Kansas, on July 21, 1937, to Pearl (Hixon) and Clifford Adams. She was briefly married twice, first to Rick Roberts and later to Gene Bunger.
After graduating from Lafayette High School, she was a flight attendant, 47 years, for Continental Airlines. She worked national, as well as international flights. Her first flight was in 1956, on a DC 3 aircraft, and her uniform was a fashionable black dress, white pearls, white gloves, red velvet tam, and of course, a girdle. As the Vietnam War was ending, Pat worked flights that brought our soldiers home.
In 2003, Pat ended her career on the Boeing 777, flying round trip to Tokyo.
Pat resided in Redondo Beach, California, Denver, Colorado, and retired in St. Joseph. She was a member of the Ashland United Methodist Church. She enjoyed traveling, the theater, reading, playing bridge and Mah-Jongg. She especially enjoyed spending time with her family.
She was preceded in death by: her parents; sister, Donna Ceglenski; and brothers, Richard Adams and Bob Adams.
She is survived by: her four nieces, Theresa Ceglenski-Tommey, St. Joseph, Kathy (Bob) Martin, Platte City, Missouri, Shelly Willis, Denver, and Kris (Rob) Gregory, Colonial Beach, Virgina; five nephews, John (Dana) Ceglenski, Savannah, Missouri, Dennis (Toni Prawl) Ceglenski, Jefferson City, Missouri, Richard Adams and Randy (Lynn) Adams, Citrus Heights, California, and Bobby (Sharon) Adams, Rancho Cordova, California; as well as numerous other relatives and friends.
Natural Farewell under the direction of Meierhoffer Funeral Home.
A casual Celebration of Life will be held from 1:30 to 3:30 p.m., with a brief eulogy at 2 p.m. Saturday, November 25, 2017, in the Fellowship Hall at Ashland United Methodist Church, for family and friends.
The family extends a special thank you to Abbey Woods Center for Rehabilitation and Healing and Hospice Partners.
In lieu of flowers, donations may be made to the Noyes Home.