Jacqueline Ritter 1927-2017
In Memory of Jacqueline Ritter 1927-2017 | Obituary | St. Joseph Mo
Our thoughts and prayers go out to the Jacqueline Ritter family at this time. We thank them for thinking of our children and supporting our mission during their time of loss by suggesting donations to the Noyes Home for Children.
If you would like to send donations in memory of Jacqueline Ritter they can be mail to:
The Noyes Home for Children
801 North Noyes Blvd
St. Joseph Mo. 64506
Or made online In Memory of  Jacqueline Ritter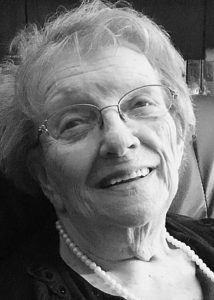 Jacqueline Jackson Ritter went home to be with the Lord on December 18, 2017.
Jackie graduated from Central High School and Missouri Western State University. She had many occupations throughout her lifetime, but the career she loved the most was working as a broadcast engineer at KFEQ Radio and KFEQ-TV.
In her spare time, she enjoyed writing magazine articles and entering contests. Most of all, she loved being a mother and grandmother.
Jackie was an active member of Faith United Church and will be missed by her church family.
She was preceded in death by: her husband, Roy Ritter; parents, John and Monta Jackson; brothers, Richard and Dorrell Jackson; infant sister, Joyce Lee Jackson; and daughter-in-law, Rebecca Ritter.
She is survived by: her sister, Mary June Book; her children, Steve (Kris) Ritter, Avenue City, Missouri, Dennis Ritter, Chillicothe, Missouri, Patti (Kenny) Spalding, St. Joseph, Mike (Michelle) Ritter, St. Joseph; her grandchildren, Dan (Tabitha) Ritter, Michelle Ritter, Sam Ritter, Wyatt Spalding; great-grandchild, Finley Ritter; and many nieces and nephews.
Farewell Services: 1 p.m. Thursday, with visitation one hour prior, Meierhoffer Funeral Home & Crematory.
Interment: Memorial Park Cemetery.
Flowers are appreciated, and for those wishing to make a contribution, the family requests they be made to the Noyes Home for Children.