In Memory of Judith (Daugherty) Butler, 1939-2017 | Obituary | St. Joseph Mo
Our thoughts and prayers go out to the Butler family at this time. We thank them for thinking of our children and supporting our mission during their time of loss by suggesting donations to the Noyes Home for Children.
If you would like to send donations in memory of Judith (Daugherty) Butler they can be mail to:
The Noyes Home for Children
801 North Noyes Blvd
St. Joseph Mo. 64506
Or made online In Memory of Judith (Daugherty) Butler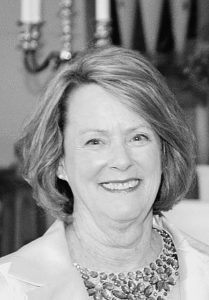 Judith (Daugherty) Butler, 77, St. Joseph, passed away Sunday, May 7, 2017, in St. Louis, Missouri.
She was born December 21, 1939, in Columbus, Ohio, and married Robert W. Butler on December 27, 1961. He preceded her in death in November 2016.
She received a bachelors degree in home economics from Ohio Wesleyan University and was a member of Delta Gamma fraternity (Alpha Rho Chapter). She co-founded and served as vice-president of Butler Sales Associates Inc. in the animal health industry for 26 years.
Judy was an extraordinary person who embraced life with determination, spirit, kindness and grace. She had the courage to try new things and never met a stranger along the way. Her warm smile, laughter and wit touched many throughout the years. She was an avid reader and enjoyed the outdoors, gardening, tennis, swimming and long walks on the beach. She treasured time spent with her family and many friends. Her bravery and fortitude in times of adversity made her exceptional.
Judy was a dedicated community volunteer. She was a member of various local organizations including the Seekers Class, Board of Trustees, Chancel Choir and TLC at Ashland United Methodist Church; Ladies United Benevolent Association Board of Directors; P.E.O. (Chapter KM); YMCA Board of Directors; Junior League of St. Joseph; Inklings Book Club; Runcie Club; St. Joseph Community Chorus; and her very special Mahjong group.
She was also preceded in death by her parents, Paul J. and Eleanor (Greene) Daugherty.
Survivors include: children, Robin Leonard (Jeff), Bradley Butler (Melissa), Elizabeth Forman (Keith), Brian Butler (Lindsey); sisters, Susan Shafer (Philip), Priscilla Mead, Sarah Sussman (Michael); 13 grandchildren; one great-grandchild; and numerous nieces and nephews.
A Celebration of Life Service will be held at 10:30 a.m. Friday, Ashland United Methodist Church, Rev. Alan Pruitt officiating.
Private inurnment: Whispering Pines Cremation Garden at St. Joseph Memorial Park Cemetery.
The family will gather with friends 5-7 p.m. on Thursday, Meierhoffer Funeral Home & Crematory.
In lieu of flowers, the family requests memorial contributions to the Noyes Home for Children, Ashland United Methodist Church Memorial Fund or Ohio Wesleyan University.