Geneva Sue Bottorff 1934-2018
In Memory of Geneva Sue Bottorff 1942-2018 | Obituary | St. Joseph Mo
Our thoughts and prayers go out to the Geneva Sue Bottorff family at this time. We thank them for thinking of our children and supporting our mission during their time of loss by suggesting donations to the Noyes Home for Children.
If you would like to send donations in memory of Geneva Sue Bottorff they can be mail to:
The Noyes Home for Children
801 North Noyes Blvd
St. Joseph Mo. 64506
Or made online In Memory of Geneva Sue Bottorff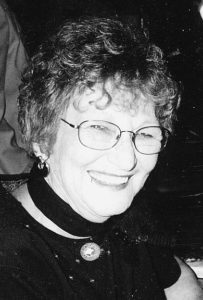 Geneva Sue Bottorff, 83, St. Joseph, passed away Friday, July 6, 2018.
She was born July 27, 1934, in Maysville, Oklahoma, to Clyde and Blanche (Young) Hill.
Geneva married Gerald Vestal Bottorff, November 13, 1953. He preceded her in death March 3, 1997.
She was an assistant manager at Carnation Distribution Center for 23 years.
Geneva enjoyed watching birds, reading, playing cards with friends and going to the casino.
She was also preceded in death by: her parents; son, Mike Bottorff; granddaughter, Gina Bottorff; and sister, Wilma Wilfong.
Survivors include: daughter, Sharon Lawrence; son, Gary Bottorff (Penny); grandchildren, Clint Willman, Aaron, Eric and Melissa Bottorff, Felicia Basham and Jeremy Dowell; numerous great-grandchildren and nephews.
The family will gather with friends 7 to 9 p.m. Thursday, Meierhoffer Funeral Home & Crematory.
In lieu of flowers, the family request donations to St. Judes Childrens Hospital or the Noyes Home for Children.