Esther G. Burleson 1933-2018
In Memory of Esther G. Burleson 1933-2018 | Obituary | St. Joseph Mo
Our thoughts and prayers go out to the Esther G. Burleson family at this time. We thank them for thinking of our children and supporting our mission during their time of loss by suggesting donations to the Noyes Home for Children.
If you would like to send donations in memory of Esther G. Burleson they can be mail to:
The Noyes Home for Children
801 North Noyes Blvd
St. Joseph Mo. 64506
Or made online In Memory of  Esther G. Burleson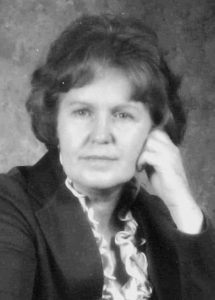 GOWER, Mo. Esther G. (Clark) Burleson, age 85, passed away Oct. 14, 2018.
Esther was an elementary school teacher for over 30 years. She began her career in Iowa, then eventually moved to Gower, where she taught for 22 years, from 1978 until she retired in 2000. She earned her teaching degree from the University of Northern Iowa at Cedar Falls, and later received a masters degree from Northwest State University at Maryville, Missouri.
She loved teaching and dedicated herself to her students.
Esther was a devout believer and lived her convictions unapologetically. Prior to her illness, she attended Representatives of Christ Church, in St. Joseph.
Esther is preceded in death by: her daughter, Rebecca; and granddaughter, Angela Baldwin.
She is survived by: her daughter, Randa (Harold) Arnett, of Arkansas City, Kansas; and her son, Kevin (Cheryl) Burleson, of St. Joseph. She also leaves grandchildren, Christy Reed, Jeremy and Mathew Burleson, and Jaylon Baldwin, Travis, Nate, Thad Hunt, Michael, Samuel, Daniel, Benjamin, Jeremiah and Susan Arnett. She leaves 37 great-grandchildren as well.
Private family services will be held a later date. Inurnment: Allen Cemetery, Gower.
In lieu of flowers, donations may be made to Noyes Home in St. Joseph. As published in the St. Joseph News-Press.