Our thoughts and prayers go out to the Ricci family at this time. We do thank them for thinking of our children and supporting our mission during their time of loss by suggesting donations to the Noyes Home for Children.
If you would like to send donations in memory of Gene Ricci they can be mail to:
The Noyes Home for Children
801 North Noyes Blvd
St. Joseph Mo. 64506
Or made online at: https://noyeshome.org/donate/
Obituary for A. Gene Ricci
A. Gene Ricci
1933-2016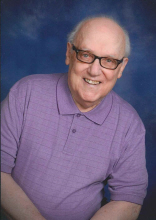 A. Gene Ricci, 82, St. Joseph, Missouri passed away unexpectedly at his home February 16, 2016.
He was born October 19, 1933 in Paola, Kansas. He married Katherine Diane Kuhnert on June 8, 1957 at St. Peter and Paul Catholic Church. His final working years as a realtor were with Summer Realty where he retired in 1997.
He enjoyed world travel and made a stop in Las Vegas at every opportunity.
He was preceded in death by his parents, Aurelio and Mary (Cipparrone) Ricci.
Survivors include his wife of 58 years, Diane, of the home; son, David; daughter, Suzanne and husband Jason Atkinson; grandchildren, Madison and Jayla Atkinson and Skylar Womach; special friend, Kathryn Pearl; and sister-in-law, Jeannette Cobb.
Mass of Christian Burial 1:00 P.M. Saturday, Our Lady of Guadalupe Catholic Church. Interment Memorial Park Cemetery. The family will gather with friends 6:00 to 8:00 P.M. Friday, Meierhoffer Funeral Home & Crematory. For those wishing to make a contribution, the family requests they be made to Noyes Home for Children, 801 N. Noyes, St. Joseph, MO 64506. Online guest book and obituary at www.meierhoffer.com.
You can visit the Gene Ricci Tribute Wall at http://www.meierhoffer.com/obituaries/obituary-listings?obId=774153#/celebrationWall