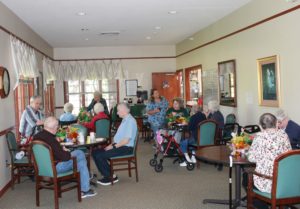 Meadowview is a Level 2 Licensed Residential Care Facility in St. Joseph Mo. for senior individuals or couples who need assisted living care. It is a service of the Ladies Union Benevolent Association, who also manages the Noyes Home.
Mission: "To provide quality care to our residents and to empower their families"
We are very proud of the services and are at times referred to as "the best kept secret in town". Everyone that comes into our facility is impressed by its cleanly appearance and warm and friendly atmosphere.
Who Comes to Meadowview?
People come to us for information and tours of the building when they need to find placement for a family member. We also have couples come for information and a tour when they are looking for a place to live that will meet their growing needs for assistance. In both cases, the facility offers wholesome balanced meals that meet their nutritional needs.
We also provide medication management, monitoring of health issues which include communication with the physicians of the residents or other health care providers. Resdients receive housekeeping services which includes laundry. They are invited to take part in recreational activities that are offered during the week. Another service that is offered is personal care. Most of our residents are retired; some are still working.
We are currently serving 13 individuals at Meadowview.